Design Proposal:
Accountable to you is a small business, offering a range of accountancy services in Melbourne, Australia. The owner needed a small website to assist in marketing the business to prospective clients.
The aim was for a modern design that displayed well on all device types (responsive). At this stage the site will be reasonably static, although articles and other useful information may be added later.
The overall aim fits well with a simple single-page design that flows down the page.
Client:
A small business offering accountancy services
Date Published:
Q1 2016
 Website:
Outcome:
The design aims to be clean with simple navigation down the page. The range of services offered are displayed and the visitor directed to the contact area.
The design is SEO optimsied and features prominently in Google local business searches.
ooOO OOoo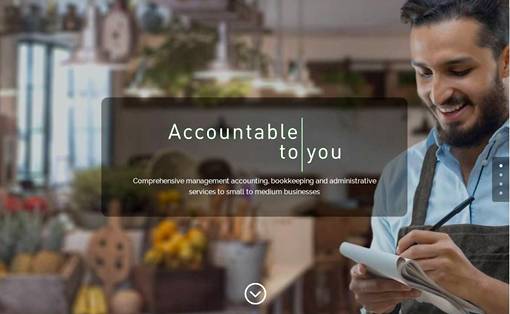 "I run a small B&B and wanted an improved web presence, something that would give people a better idea of our property and also where they could make a reservation.  I approached Glen to discuss what he could do.  I was very pleased not only with the end result but also the way he approached my request.  Nothing was too much trouble.  He took the time to understand and document my needs and was in regular contact throughout the process to ensure that he was capturing what was required.  I was  given the opportunity to test the site during development and we discussed several options where there were several ways of doing something.  When it came to hand over time Glen took the time to walk me through the site and also the user manual that he had prepared.  All in all I am very pleased with the process and result.  Thank you Glen."